By Celine, 23, volunteer from Passau
From 25.08.2022 to 30.08.2022 my first transnational meeting took place. Project partners from Georgia and Azerbaijan came to Passau for the 5-day workshop. This was my first week of internship at the association "Living and learning together" and it started with the transnational meeting. To be honest, I was a bit nervous, tense but at the same time excited about the days ahead.
On the first day, our transnational meeting started with the arrival of the partners from Georgia in our office. There was a small office tour to show our partners our workplace, followed by a short introduction by Perdita. She explained our organisation to our partners, what tasks the association is responsible for and what the NGO's goals are. To get to know our project partners better, a WALK and TALK tour through Passau took place. Here we were always mixed with new partners to get to know them better, had new exciting conversations about the questions asked and at the same time enjoyed a city tour of Passau. The walk ended in our community room in the Innstadt, where we welcomed our other project partners from Azerbaijan. After a short lunch break, the project "Remember to act" was introduced. We spent the afternoon with interesting lectures and interactions about the project including "culture of remembrance", "power of oral history" and "storytelling". Storytelling was a sub-activity that I was allowed to present myself and started a small interaction with our project partners. We ended the evening with a joint cooking evening, a typical German dish from the Saarland region was cooked, which is known as "Geheiratete".
On Saturday morning, the day started with an introduction to the project "Suitcase of my life" in order to get to know this project better as well and so that our project partners can also implement the projects successfully in their countries. After the lunch break, all participants were matched into tandems with one person from another country. The aim was to get to know the other tandem better, to learn more about his or her life story in order to be able to create a life suitcase. I found the conversation guide very practical, as it provided a wide range of questions. The so-called icebreaker questions made it easier to start a conversation with your tandem. The further course of the conversation became easier and easier the more we got to know each other. In the afternoon, I gave my tandem partner a small Passau city tour, where I showed him a few sights in Passau. At first I was a bit reserved and nervous about holding a conversation and city tour with a person I didn't know so well. However, my concerns were completely unfounded and we both had a nice city tour with interesting conversations. Martina held the first part of the creative workshop in the afternoon and all participants were allowed to pick out materials for the next day. In the evening, the Georgian team prepared dinner with traditional Georgian dishes.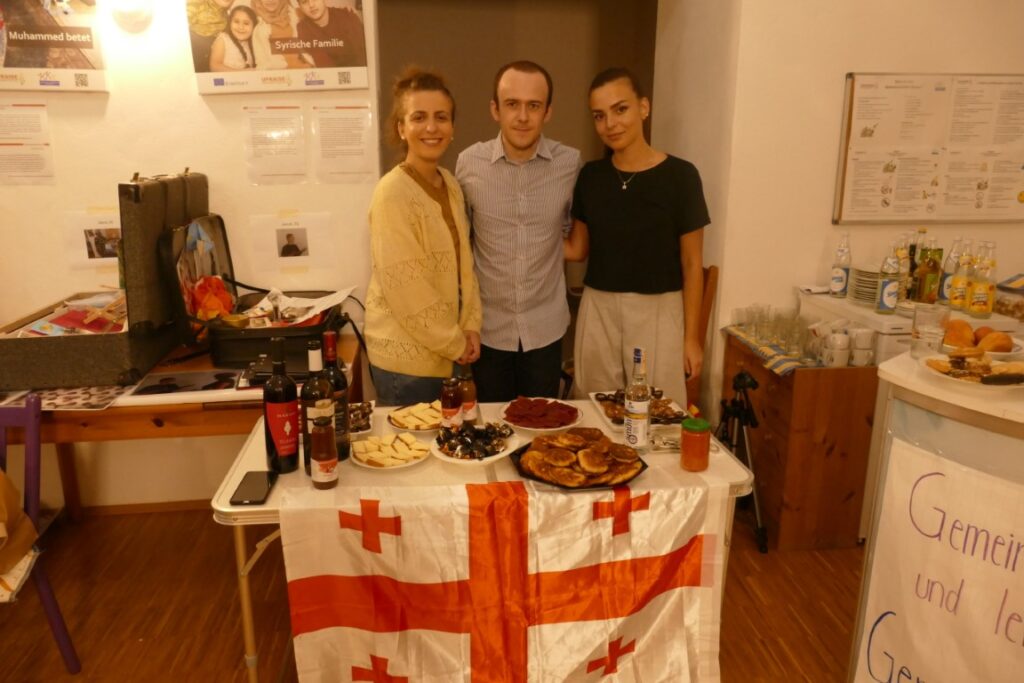 On Sunday, the creative workshop continued with the second and third part. The purpose of the second part of the workshop was for everyone to make different items that they would associate with their lives and then place them in their life suitcases. There was a huge selection of materials and at first it was a bit overwhelming what you could craft with them. Martina gave us some ideas to take inspiration from and because of this the implementation became super easy. In the afternoon, during the third part of the workshop we dealt with the topic of "handlettering", where everyone was allowed to try it out for themselves. Afterwards, there was a round of presentations of the handmade materials, everyone showed their art and explained their intention behind it. The creative workshops were my personal highlights of the transnational meeting, here I particularly noticed how much I enjoy handicrafts and how much one actually ignores such creative tasks as an adult. That evening, the Azerbaijani team cooked their traditional dishes and we ended the evening together.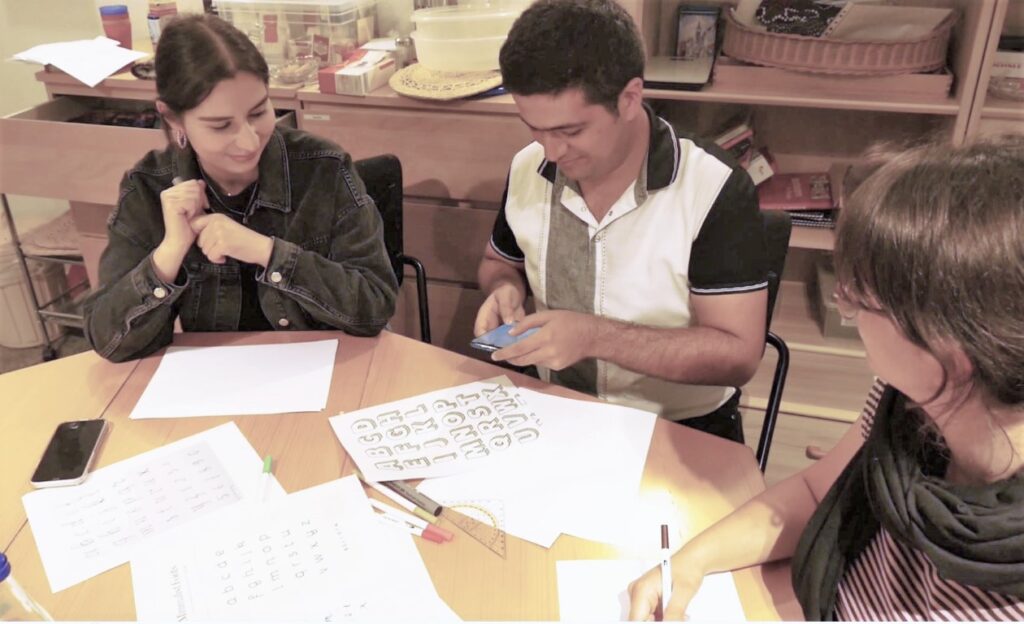 On the second last day, there was a session in the morning on how to organise a "Suitcase of my life" exhibition. The last method of the project "Living Library" was also presented. To better illustrate this method, Mohammed told his story of his first day in Germany. Afterwards, all participants were visibly emotionally touched and some questions were asked. Over the last few days, we became very aware of how important it is to exchange stories and experiences with different partners. The stories of the partners from Georgia and Azerbaijan also touched us very much and showed me how ignorant we are about these countries and how important it is to get more information about them.
We spent the last evening in the restaurant "Bayerischer Löwe" and were able to enjoy German (Bavarian) food together once again. The 5-day workshop was definitely a great enrichment for me, I was able to learn a lot about the Georgian and Azerbaijani culture, realised how important it is to communicate with different people and to be open to different stories.
Celine