By Ramin Habibzada, a youth leader, Secretary General of the National Youth Council of Azerbaijan (NAYORA)
Being a part of the team as a participant from Azerbaijan, I participated in our first transnational meeting with the partners in Passau, Germany within our joint project "Remember to Act: Understand – Learn – Act". I enriched my experience here by being acquainted with different cultures and new approaches which was one of the most fruitful experiences I have ever had.  As a youth worker, it positively affected me and helped me to broaden my horizon in youth work. During the 5-day workshop organized by the German partners, I had the opportunity to learn new methods and interact with other participants from Azerbaijan and Georgia.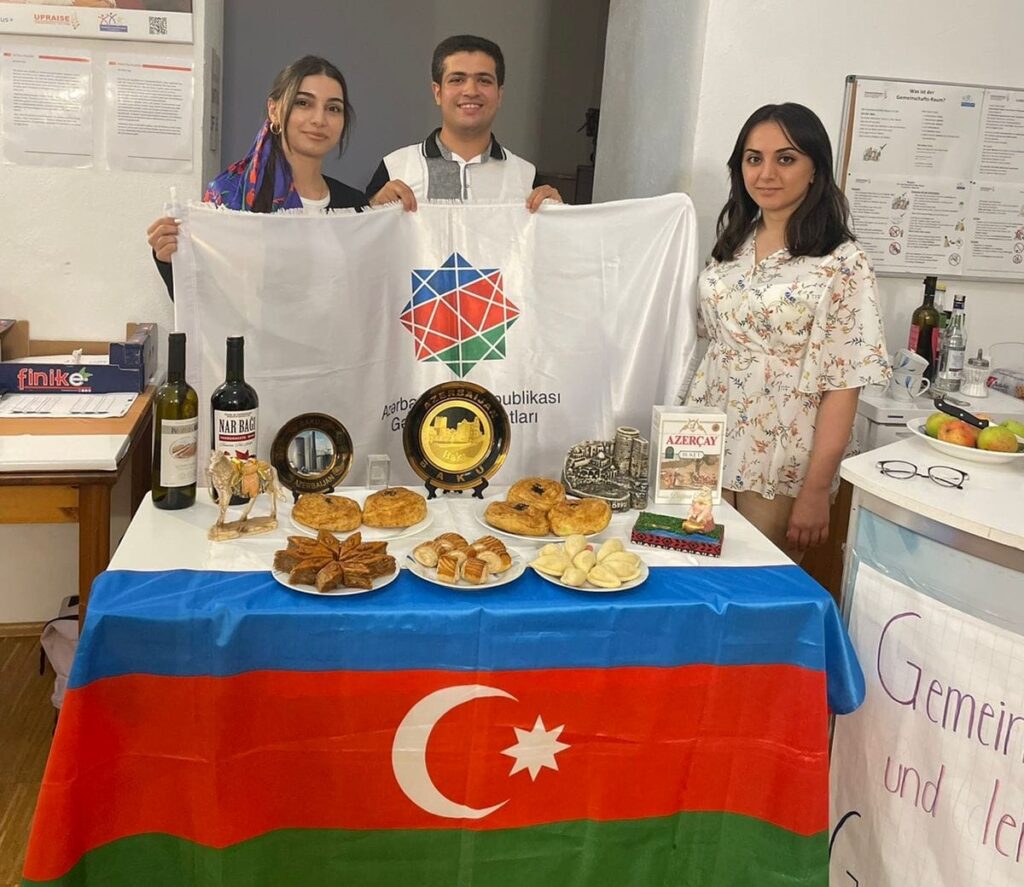 Firstly, I must say that my overall experience of the training sessions was very positive. The German partners organized a well-planned workshop that allowed us to gain knowledge, exchange experiences, and have fun at the same time. I was particularly impressed by the different methods of implementing projects in youth work that were presented and discussed during the workshop. The interactive meetings on "Culture of remembrance", "Oral history", and "Living library" were new for me, and motivated me to actively participate in the discussions to gain a full understanding of the methods.
I had a chance to interact with participants from other participating countries, which was a unique and valuable experience. We shared our experiences, stories, and cultures, and learned from each other. One of the most interesting activities we did was the "Suitcase of my life" method, where we matched with a tandem to exchange our life stories with another tandem to implement the suitcase of life later. The method to start the conversation with tandem was so practical, as icebreaker questions made it easier. This method allowed us to get to know each other better and form meaningful connections.
Although I have long experience in youth work, there are still so many things to learn, for example, "Suitcase of my life". This was new for me, and my country as well. I learned a lot from this experience, both personally and professionally. The workshop allowed me to gain new knowledge and skills that I can implement in my future projects. I learned how to organize a "Suitcase of my life" exhibition and how to use creativity in my work. I also learned how to interact with people from different cultures and how to be more tolerant and open-minded.
One aspect of the event that surprised me was the emotional impact of the stories shared by participants about their country's history and conflict. The workshop helped me understand how important it is to listen to different perspectives and to respect other people's experiences.
Lastly, this experience will have a significant impact on my future initiatives. The knowledge and skills I gained during the workshop will be valuable for my future work. I also learned the importance of international cooperation and exchange, and I am motivated to seek more opportunities to participate in similar events.
In conclusion, the "MEET-UP! Youth for Partnership" transnational meeting in Passau, Germany was an unforgettable experience for me. It allowed me to gain new knowledge and skills, interact with people from different cultures, and form meaningful connections. I am grateful to the German partners for organizing such a well-planned and fruitful workshop.