By Alessandra, a volunteer from Passau
We organized the living library event together with the association Seebrücke made up of many young active volunteers on the 22nd October 2022. Two of our volunteers offered to participate as "books" and share their stories: Christina and Nour. We prepared two "fake books" with a picture of the person, the name, age and a small quote, that people walking in the bar could look at and then ask to listen to the story of one of the two "books", we would then make them sit at the table with the person they chose and the "book" started telling their story.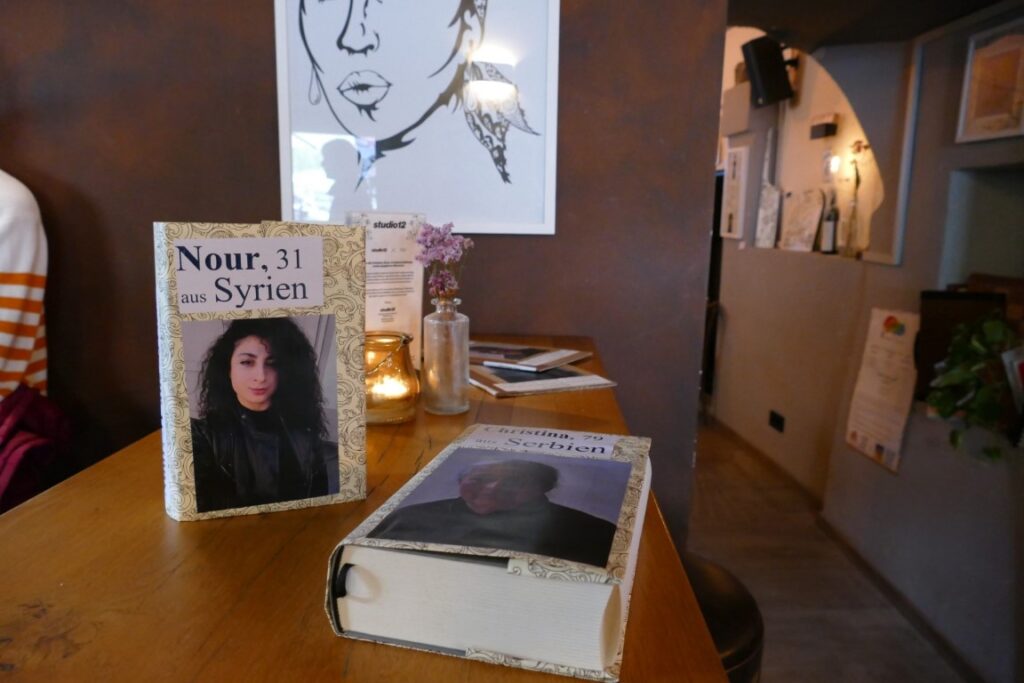 The event took place in studio12 a local bar of Passau in the city center. The atmosphere, being it a very cool, student bar, was amazing and perfect to create the cozy feeling of a moment of sharing experiences. People would come in the bar and we would divide them sometimes singularly and sometimes in small groups (if they were friends). Christina and Nour were amazing, it was hard to re-live the past and they managed nonetheless to share their stories and make us reflect on them. The people listened with a lot of interest. The stories would be kept between 30-35 minutes and we would always check that enough breaks in between were given to our books in case they needed. In total, about 25 people participated to the event, either as organizers/volunteers or as visitors, the number of young people, who participated, was about 15, we managed to reach many local students thanks to the good location. In my opinion I really loved helping organize the event and also documenting it and taking pictures and asking about the feedback, some of the participants commented with small quotes what they thought about the event, for e.g. Leoni said: "Hearing the stories of people who had to experience such things makes you pause and appreciate the value of life anew." Or Nico: "Hearing the story of persecution and prejudice just because of the group you were born into makes me appreciate even more the time and circumstances I grew up in and once again feel the need to actively interrupt such behaviors.".
In general, the event was a success, we managed to organize it well and the outcome of it was what we were hoping for, sensibilising people to the importance of listening to others, understanding their stories and learning to act against discriminations. A challenge we had was setting up the banner we had prepared for the event and attracting more people to the event.