By Paul, 24, volunteer from Passau
My first transnational meeting is over.  I come out of these 5 days with an optimistic and motivated energy. More than three nationalities came together and spent the days in Passau.
In advance I was very nervous. One reason was that I had to design and conduct a workshop in English on the oral history method. On the other hand, I was very excited to take part in a transnational meeting because I had only heard about it before but only had the chance to take part towards the end of my internship. I am very grateful for this unique opportunity.
We, the team from Passau and the team from Georgia, started the 5 days with a special city tour. Our boss, Perdita, structured the city tour like a speed dating round. Between the stops, where Perdita shared her personal experiences of Passau as well as facts about the sights, we were given a question or topic to talk about in random teams of two. I have done many city tours in Passau and even with the modest size of the city, these tours can feel very long. In contrast, our way of exploring Passau was varied and short. I found the different perspectives on politics, politicians, religion and church particularly interesting. Having grown up in a representative democracy, I have no distrust of our political representatives and institutions, despite the personal failings of individual politicians. My non-German tandem partners, on the other hand, spoke with great conviction about their mistrust of politics, the state and the churches. Of course I have ideas and wishes about how a Germany should be structured so that everyone can be different without fear, but the demands do not make me doubt the democratic system.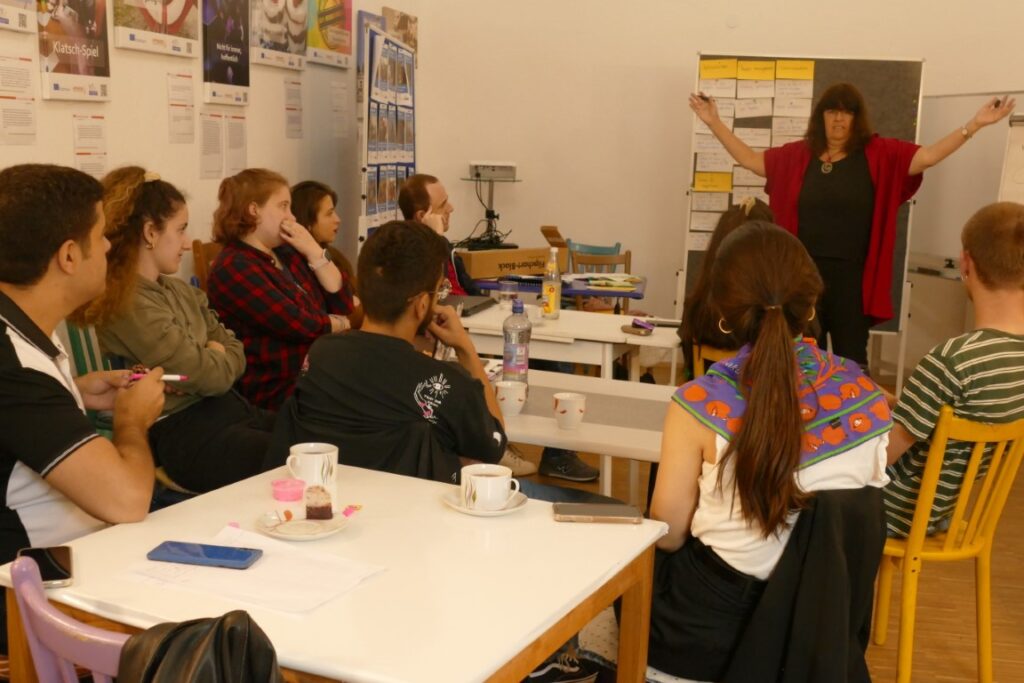 Until my talk on oral history, I really wasn't all there. For the future, I have resolved to trust more in my preparation. Although I've already given many presentations, it's always a challenge for me and this time I couldn't just improvise because the presentation had to be in English. Nevertheless, I was all the more relieved when my presentation was over. Afterwards, I was able to focus more on the other participants and our project.
Due to budget cuts, it was decided that each national team would prepare a national evening with food. We Germans kicked things off. A colleague cooked a Saarland dish called "Geheiratete". Externally, the whole thing was less appealing, which was also easy to see in the faces of our international partners. Personally, I am also someone who attaches importance to appearance and consistency in food. That's why I was hesitant to try the whole thing. But then I was convinced by the taste of it.
Sunday was my absolute highlight because the Creative Workshops took place. After a phase full of uncreatively and pressure, I was able to lose myself in the work very well and enjoyed the creative work. In general, I found the Creative Workshops very wholesome. Everyone visibly enjoyed their work and was really absorbed. The presentation of our work at the end of the day was simply beautiful. Each person had a story to tell and you had the feeling of getting to know each person from a very personal perspective. In the evening, the team from Azerbaijan cooked. I can only sink into longing. The food was so delicious. A very unexpected but a really good idea was a quell event organized by the Azerbaijani team to inform us about their country. I won a plate with the emblem of Azerbaijan on it, which I put directly in my room.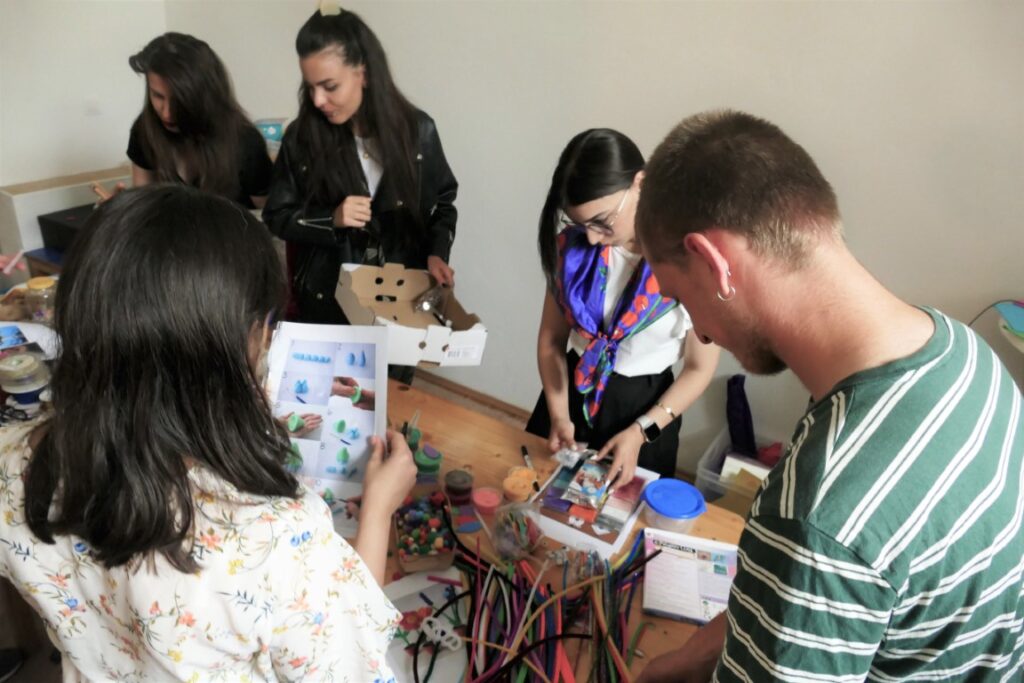 Monday was the most emotionally challenging day. We talked about the project and what remembrance culture means in our countries. I have to admit that I knew nothing about the history of genocides in Georgia and Azerbaijan. Together, in small groups, we thought about how we could talk to the contemporary witnesses in order not to forget history but at the same time not to retraumatise the eyewitnesses. This was perhaps the most difficult task during the whole time.
On the last day, we were able to go to a typical Bavarian restaurant. It was a really delicious and nice ending in the beer garden in the centre of Passau.